A complimentary consultation is provided for all balloon designs.
ARCHES
(Cost per Linear Foot based on 11" balloons)
String of Pearls (Helium Required/Weighted): Starting at $17 per ft (i.e., 26 ft = $340)
Linked Arch (Helium Required/Weighted): Starting at $17 per ft (i.e., 26 ft = $340)
Spiral (Framed/2-4 colors): Starting at: $15 per ft (i.e., 20 ft = $300)
Organic (Framed/Random sizes): Starting at $22 per ft (i.e., 20 ft = $440)
Criss Cross Single Arches (Dance Floor Arches/Helium Required/Weighted Attached to Columns): Starting at $14 per ft (i.e., 42 ft = $560 per arch)
Oversized Spiral Arch (Framed/17" Balloons): Starting at $23 per ft ( i.e., 30 ft = $690)
MagicArch (Mylar) Starting at $25 per ft (i.e., 20 ft = $500)
Arches can be customized and embellished for an additional cost. Arch prices vary according to size, customization, types of balloons needed for the design and type, and the location of venue (inside vs outside).
COLUMNS
Basic Column: 6 ft – Starting at $85 (Weighted or Framed)
Mini Column: 4 ft -5 ft – Starting at $70 (Weighted or Framed)
Grand Column: 7 ft and Taller - Starting at $125
Style Options:  Box, Spiral, Topiary, Organic, Chevron, Oversized
TOPPERS
Foil Balloons
38" and up, Air Walkers, Jumbo Mylars  - $40
28" and up - $30
18" and up - $10
Latex Balloons
30" and up - $25
Double Stuffed Balloon - $25
Firecracker/Celebration - $35
Embellishments (Upcharges are based on the design)
Ostrich Feathers
Jewel Accents
Lighting
Florals/Greenery
Foil Accent Balloons, etc.
BALLOON BOUQUETS (Helium Filled/Weighted/Staggered or Stacked Balloons)
Prices listed below are starting at prices. Balloon size can impact the price.
TABLETOP/FLOOR
QTY: 3 - $20
QTY: 5 - $35
QTY: 7 - $50
QTY: 9 - $70
ADD-ONS
18" Foil or Special Latex $15
36" Foil or Specialty Latex $25
UPCHARGES (Based on the Design requirement)
String or Ribbon Lights (Based on type)
Ribbons/Lace/Mylar/Floral/Greenery
Decorative Bases
Other Decorative Accents
BALLOON STRUCTURES/SPECIALTY CHARACTERS (Prices starting at $145, add-ons not included in the starting price)
Such as but not limited to:
Balloon Marquees and Mosaics
Superheroes and Children's Characters
Sports Themes
Palm Trees (Framed)
Number and Letter Structures
Ice Cream Cones, Baby Bottes, Pacifiers, etc.
Star Structures (Framed)
Heart Structures (Framed)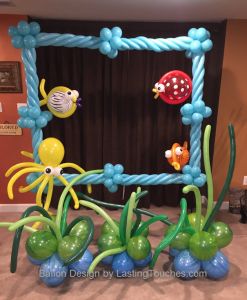 BALLOON WALLS/BALLOON BACKDROPS /BALLOON PHOTO FRAMES (Starting at $370)
Various designs are available to create backdrops, prices are based on the design and type of balloons used.
Shown: The Balloon Photo Frame (Under the Sea) is 7.5 ft by 5.5 ft with balloon characters and 3 mini structures.
DELIVERY/SET UP CHARGE AND STRIKE FEES
The delivery/set up charge for decorating typically starts at $50. If the decorating team returns to strike the décor, there is a $50 strike fee. Distance, delivery time and size of order may impact the delivery/set up charge and strike fees. All clients receive a written price quote prior to any job approval.