Balloon Artist & Event Decor Designer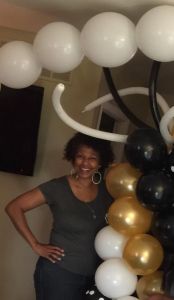 Nothing says celebration like BALLOONS!! I absolutely love transforming venues and spaces by adding custom balloon designs that bring elegance, add interest, textures, color, excitement, fun and of course, Lasting Touches by making every occasion even more memorable!
My passion to create and appreciate unique, beautiful and creative designs with attention to detail was inspired by my Mother who was a master seamstress, knitter, crocheter, decorator, and crafter. In addition, I gained the creative influences and "the eye" as my mother would say from my Father, who was an artist, illustrator, painter, and photographer. He absolutely loved to celebrate. From this union, Lasting Touches was inspired and my passions were born!
As a very young child, I was taught to design, craft, and create unique and beautiful things for others. Mom would say, "Focus on the details, and take pride in your work." She definitely ignited my desire and passion to work with my hands and create beautiful things that I truly take pride in and focus on the details to this day!
I am passionate, creative, and love designing beautiful and unique balloon structures! Attention to detail and taking pride in my work are always factored in my designs.
A special heavenly salute and thank you to my parents, Evelyn Virginia Hall and Greeley Wendel Hall for the passions they instilled in me to create the best balloon designs and celebrations for others!
I take pride in making your celebration special one balloon at a time!!! I look forward to working with you to make your special event or celebration absolutely magical!
Contact me today to add Lasting Touches to your next special event or celebration.